OHMY GOD. i saw hoonie yesterday. here's an account with VERY TINSY INSY PICTURES cause...:
so i went to meet my grandma at STB (singapore tourism board), but on the way there, bus75 broke down. D:
took mrt to changi airport and reaced the airport at about 7.15pm. went to see his flight details... ROW4! thennn i went to eat dinner, then went to the departure gate to check if there was any girls holding banners or what sort. but amazingly i didnt see anyone! so went to walk around and went to NTUC... and then waited for KJH till 9.15+ saw lots of fangirls waiting for him. then suddenly they started taking out their cameras and booklets and pens (as if he will stop to sign T_T but i still brought my KJH BEST ALBUM CD in case) so i took out mine and went to the PREMIER CHECK-IN cause my grandma says that he's a star and they wont let him queue up and check in.... then there was a lady holding some stuff and she asked us if we were his fans and we said yes, and then she gave us this: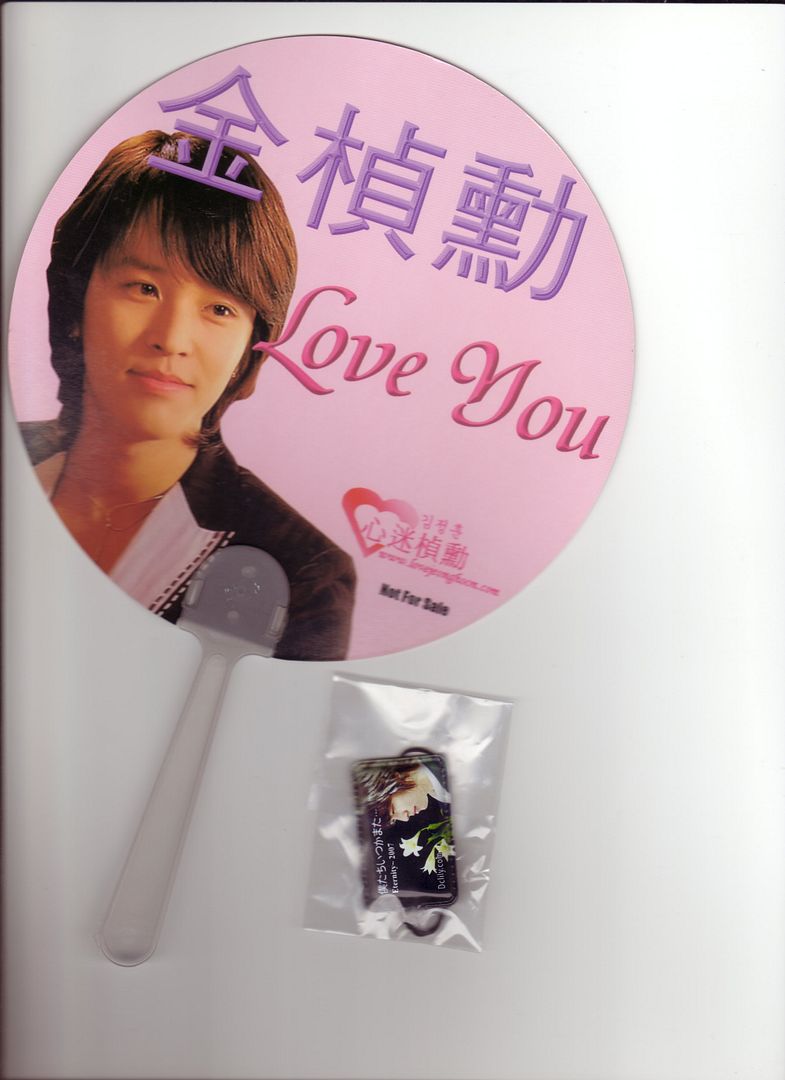 cool eh? im gonna keep one set for myself and im going to send one to annabel cause she's the one who told me all about this. she says this hongkong forum is very active, they will fly wherever KJH goes (WOW!) anyways, then he came in (you'll know cause the moment he entered "JEONG HOON AH! JEONG HOON! OPPA! OPPA!" really loud and all.) then i stood at the side taking photos but HIS STUPID BODYGUARD HAD TO
PUSH
SHOVE ME ASIDE when i was just standing there really calmly. T.T but anyways it was
HOONIE-BODYGUARD-ME.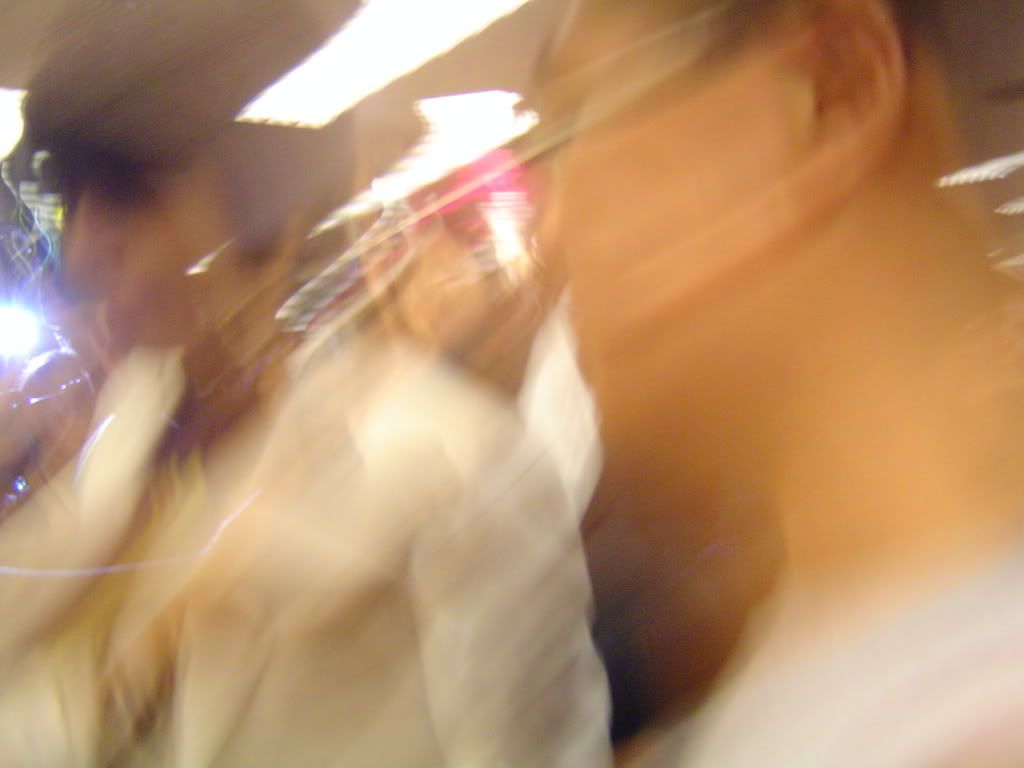 the blurry white guy is HIM. thats about how close i was.
then i followed him till he went in the check in room.(he waved before going in) the fans could see him inside though. so THE PEOPLE INSIDE WAS ASKING HIM FOR AUTOGRAPHS! see: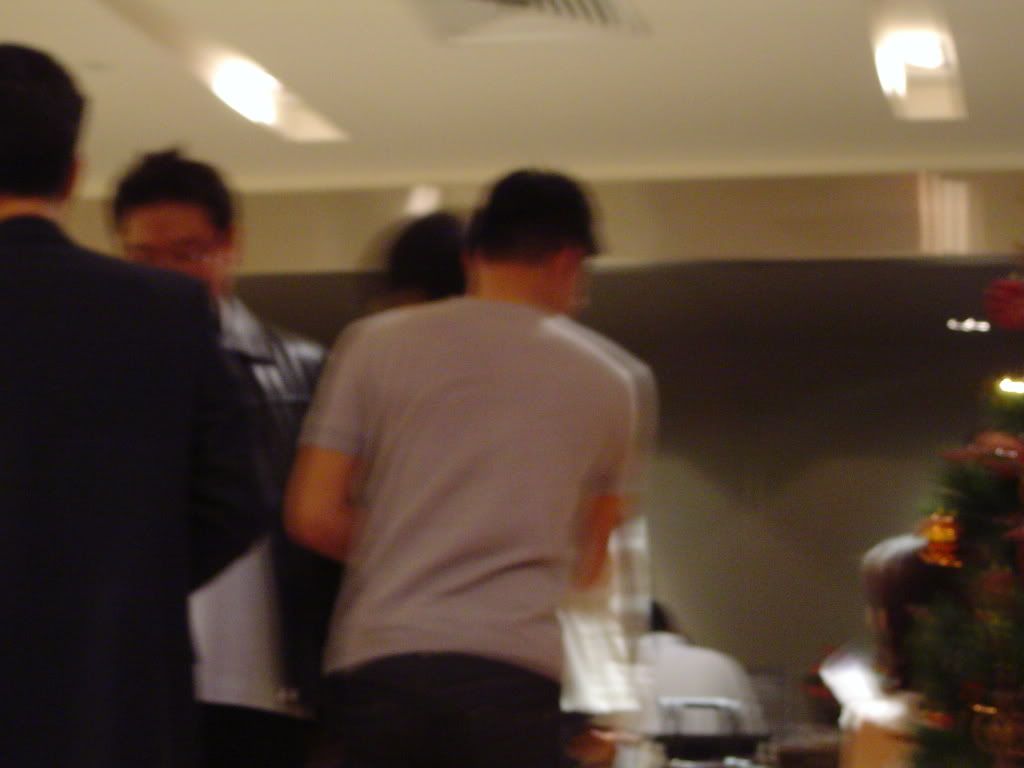 the guy in grey IS BLOCKING HIM D:
so the fans was still screaming his name and asking him to "LOOK HERE OPPA! PLEASE!" (like he would understand english T.T)
then a guy appeared (from inside) and offered to take his picture for us but the BABO LADY HAD TO SAY "can you ask him to stand at the christmas tree so we all can take instead?" so the man went to ask and he said "im sorry, but his manager says NO." then i RAN back to my space (my big fat body pressed against the glass panel... cause they were pushing really really badly.) then i was waiting for 30 minutes... then "HE'S COMING OUT!!!" camera starts rolling...:
THE SCREAMING'S HORRIBLE THOUGH.
gahh, HE'S SUCH A CHRAMING GUY! i dont want to post the unedited one with me running and all cause its really embarrassing. :X HE WAVES! and the you see that part where he turns back alittle? yeah. i screamed. XDD kinda too excited. but I SWEAR he saw the cd i was holding and the fan. he looks incredible. my grandma says he looks really skinny. but i learnt SO MUCH FROM THOSE FANCAMS, i restained myself and didnt touch him. BUT I COULD. I WAS SO CLOSE. i really dunno why youtube made the fancam look so BLURRY D: did i mention that there was ALOT OF AHJUMMAS THERE? i never expected it but HAHAHAHAHA XD the lady beside my granny PROUDLY told her that she went to chase KWON SANG WOO and RAIN (i forgot who alreadt :X) but the lady told my grandma that it's REALLY ADDICTING. but who cares! I SAW KJH. although i waited for him for about 2hours and reached home at 12am. ITS ALL WORTH IT MAN.
Current Mood:

energetic
Current Music: endless sorrow - kim jeong hoon